<![if !supportEmptyParas]> <![endif]>
BCS Chipper Shredder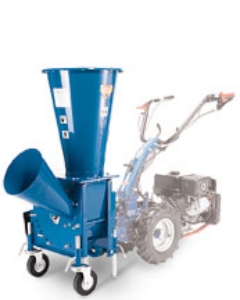 | | |
| --- | --- |
| | Make mulch, ground cover, or compost |
| | Chops tree limbs up to 3" in diameter |
| | Shreds up to1" brush |
PTO Chipper Shredder Specifications/Compatibility Guide

Width

27"

Height

48"

Drive

710

712

GX8

718

722

732

852/853

948

PTO

<![if !supportEmptyParas]> <![endif]>

Blades

Moving

one

Stationary

one

Flails

Quantity

28

Material

Hardened Steel

Reversible?

YES

Hopper Opening

8" Diameter

Throat Opening

4-1/2" x 3-3/4"

Construction

Steel

Capacity

Chipper

3" limbs

Shredder

1" brush

Length

30"

Weight (attachment only)

210 lbs

Portable Mulching and Shredding Power!*

Chipper/Shredders use a powerful internal mechanism to perform two separate functions; not surprisingly, these are "Chipping" and "Shredding".

Chipping
The first function allows chipping tree limbs into pieces that are approximately 3/16" in size. As a limb of up to three inches in diameter is inserted into the side chute of the Chipper, it encounters a high carbon steel chipping blade fastened to a 37 pound flywheel that is rotating at an unstoppable 3500 revolutions per minute. As it passes to within 3/16" of a heavy steel anvil, this blade shears off a chip of wood once for every revolution. The power of this compact, but powerful chipping action has to be seen to be believed. The output is a uniform chipped wood product suitable for ground covering, or mulch.

Shredding
The shredder works from a hopper that is mounted on the top of the attachment into which leaves, stalks, and garden waste may be dropped into the shredding mechanism. The shredding chamber is a mayhem of 28 "flails" or "hammers" also swinging at 3500 RPMs - that's 98,000 flail strikes every minute! The shredded material falls down an out put chute onto the ground when they are small enough to pass through a filter screen at the bottom of the shredding chamber. Three different size screens from 3/8" to 1-1/8" are available to control the fineness of the shredded material so that it can be used for different mulching and composting applications. The shredder can process limbs up to 1" in diameter.

The PTO chipper/shredder attachment will fit on any BCS tractor with 7hp or larger engine. This chipper shredder is made with a very heavy gauge steel body that will stand up to years of punishing jobs. One of the great benefits of the PTO chipper/shredder is easy transport. Since it connects to a BCS tractor, transporting the PTO chipper/shredder into rough areas is easy because the tractor's drive does all the work.
* This text was taken from BCS-America
<![if !supportEmptyParas]> <![endif]>
| | | | |
| --- | --- | --- | --- |
| BCS Shop | PO Box 249, Harvard MA, 01451 | 978 456-3327 | john@bcsshop.com |
This site was last updated on March 13,2006
<![if !supportEmptyParas]> <![endif]>